The Interreg MED Programme gathers 13 European countries from the Northern shore of the Mediterranean. They are working together for a sustainable growth in the region.
The Programme supports projects developing innovative concepts and practices and promoting a reasonable use of resources.
Interreg Euro-MED Programme 2021-27
Since 2019, the Interreg Euro-MED Programme 2021-2027 has been on the making. From the framing EU regulations to the European Commission Mediterranean Orientation paper and the proposed Programme strategy, discover what the future Programme will look like.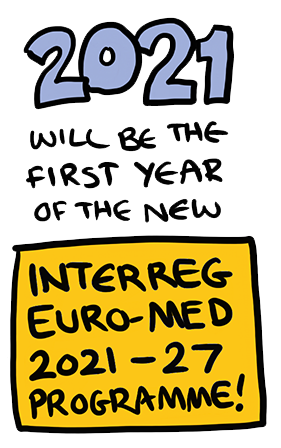 focus
Prompting creativity with Living Labs methods
With its 12 projects involving 129 partners, the broad question underpinning the activities of the Social and Creative community could be phrased as follows: how to create an environment which pushes for innovation opportunities?
NEWS
Events
PUBLIC PROCUREMENT IS GOING GREEN IN MED MUNICIPALITIES
The EU has set binding targets of reducing our energy consumption through improvements in energy efficiency by 2030 by at least 32.5%.
THE INTERREG MED PROGRAMME AT A GLANCE!
Find out from which countries/regions our project partners come from, which type of organisations they belong to, which thematic topics are more popular among them and much more thanks to our interactive map!
(updated on 17/02/2021)
Million
Inhabitants in our area