Clean energy : a real opportunity in isolated Mediterranean territories
The Mediterranean has 190 islands and 71% of its territory is rural. These areas, due to their isolation, are characterised by small-scale economy, difficulties in finding jobs, energy dependency, loss of population, especially the young people moving to urban areas in search for a better life, among other concerns. For example, in the Balearic Islands, 45% of the agricultural sector has disappeared.
Although the scenario seems rather dark, there is a positive side to this complex reality. Local population are usually very cohesive, and people help each other out. These territories also offer a unique potential to exploit their resources in new clean energies. Taking into account these unique traits, the local economy could benefit from investments in renewable energy. Even if such investments could improve the local population living conditions by bringing new qualified jobs, their implementation on the ground is not always easily accepted by the locals. These facilities require sufficient space and have an impact on the landscape as they affect land use and are sometimes poorly perceived by communities. Better communication and awareness-raising on the matter is essential but depends largely on the agendas of the local authorities.
As a consequence, implementing clean-energy transition in small island and rural territories is a challenging and complex process. To include all aspects of the social and local context in clean-energy transition, national, regional and local plans is at the core of the ETU Initiative, the key innovative approach created by the Interreg MED Renewable Energy community of 7 projects.
"ETU" stands for Ecosystemic Transition Units made up of four units: energy planning (territorial component); community planning (social component); energy governance (legal component) and energy facilities (technology component).
The territorial component is about planning energy at local level. The added value of this component is to bring consistency and to complement Sustainable Energy and Climate Action Plan (SECAP). Mayors have been trying to implement them with very different degrees and approaches, sometimes producing gaps. For example, only a relatively small portion of villages are included in these plans. The ETU would allow the mayors to base their work on a common methodology. As Cynthia Echave, member of the Renewable Energy community and mentor of the ETU Initiative, puts it – "it includes small scale initiatives."
The social component means empowering and involving the locals in the decisions, by creating "energy communities", making the process firmly grounded in decentralised, democratic decision-making and not just centrally top-down imposed. Energy communities are the main pillar around which local renewable investments would emerge. Those investments would have secured social acceptance and express the needs and wants of the local community.
The legal component is the energy governance. To be effective, ETU should be supported by an agreement between all interested parties, integrating and planning the needs and expectations of all involved authorities at each level: private, public, national, regional and local. The agreement, which should last at least 6 years, would guarantee the successful implementation of the model. Moreover, one ambition of the Interreg MED Renewable Energy community is to set or complement the current EU energy regulation or even to create an EU authority to oversee this new approach and set strategic EU alliances that will boost this approach at European scale.
The technology component, lastly, is about energy facilities. This component mainly answers the question as to where to find proper funding for renewable energy infrastructures. The later represents a major challenge as those installations often have high financial costs, with no guarantee of a return on investment. Especially in small municipalities where budgets are insufficient for investments of such scale. However, finding the financial solutions is key to eliminate the last obstacles that could prevent the investment in renewable energy sources.
To provide the funding needs to local communities, the ETU technology component presents creative solutions. One example could be "crowdlending". This is a funding modality, where the mayor and the citizens decide collectively to invest in renewables. There are examples in Barcelona and Girona of this collective investment in energy transition.
There are already several successful cases in the Mediterranean that inspired the ETU model. Kostas Komninos, from the Aegean Energy and Environment Agency and DAFNI Network of Sustainable Greek Islands, leads the implementation of the "Kythnos Smart Island" project on the island of Kythnos, in the Aegean Sea, an innovation living lab since 1982. He says: "When speaking to locals, energy transition is hardly relevant to them. They are very sceptical! Water and waste management but also frequent connection to the mainland are much more relevant to them; so instead of starting the discussion with clean energy it is better to try to help them with high priority problems for the locals. For small islands, shipping waste to the mainland is very costly. So, including in the process solutions based on circular economy is key to talk to local authorities and the local population. This is why, we need a more integrated approach for energy transition in islands. Only innovation and governance can make this transition happen."
A manifesto rather than a policy paper
To spread the ETU Initiative throughout the Mediterranean, the Renewable Energy community launched the "ETU Manifesto". Even though a "manifesto" is not a common way to spread an initiative, especially in a policy-making context where the tendency is to publish "policy-papers". Cynthia Echave explains why a Manifesto was preferred: "the 'Manifesto' layout was necessary to set principles behind the initiative. We are focused on energy transition and its issues need a very sociological approach, which is translated in mobilising resources and people for a cause. A manifesto gives a sense of urgency and a sense of policy change and social innovation."
Social innovation seems as the perfect approach to overcome the reluctance of the local populations, showing them that renewable energy sources can bring solutions to deal with the lack of economic opportunities, depopulation, ageing, poverty and social inequalities. The Manifesto could bring the local population together, strengthen its position and attract renewable energy investments.
In addition, economic activity in sectors such as tourism, fisheries, agriculture and livestock, that are energy intensive, should be considered for reducing production costs. "These links – as Cynthia highlights – to the local economy could be an additional door to connect with the local population. Everything can be developed if there is a business case behind, but the citizen's involvement is crucial".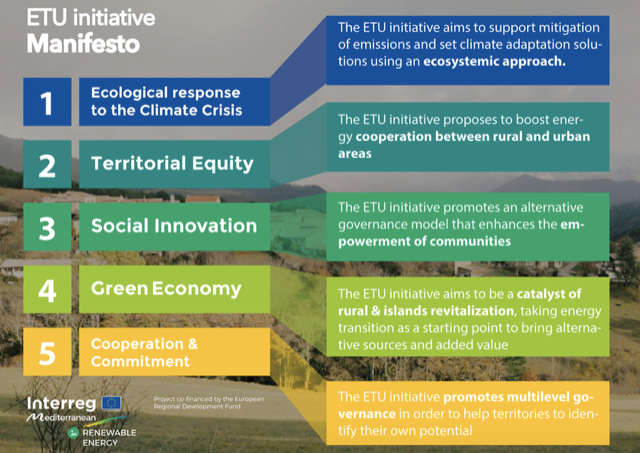 Some territorial priorities need to be taken into account to implement ETU on the ground. The Renewable Energy community has already mapped a certain number of territories to spread the ETU model. In order to decide which areas to prioritise, a two-fold approach was deployed. At first, they used territorial data analysis. As a result of these analysis, they concluded that ETU implementation should start by addressing small rural areas near urban ones. Secondly, the partners of the Renewable Energy community identified the territories in their networks that would be best suited to first benefit from the model.
The campaign of ETU initiative aims to encourage approximately 70 municipalities throughout the Mediterranean to join the existing network of partners of the Renewable Energy Community and the idea is to organise awareness raising sessions and relevant dissemination actions to ensure their engagement and support.
On a larger scale, the Renewable Energy community has the ambition to reach out to national governments in France, Greece, Spain, Slovenia, Italy and Croatia. The goal is to take on-board the ETU approach when preparing their National Energy and Climate Plans (NECP). A top down strategy that would help the different levels of authorities to coordinate among each other and additionally to bring more democracy to the actions proposed, which would better reach local community.
Finally, another dimension of the ETU implementation process is to establish links with the Covenant of Mayors and the Clean Energy for EU Islands initiative. The main target is for the ETU model to be involved in SECAPs and Clean Energy Transitional Agendas preparation and implementation process by providing common methodology and ensuring active local involvement.
What is the Low Carbon Interreg MED investment priority?
The Renewable Energy community is part of the Low Carbon Economy investment axis of the Programme. This axis addresses low-carbon strategies and energy efficiency in specific Mediterranean territories: cities, islands and rural areas. To respond to the needs of energy transition, the Interreg MED Programme created 3 additional communities of projects with a total of 26 projects: Efficient Buildings (energy efficiency in public buildings); Renewable Energy and Urban Transport.
To learn more about the outcomes of this Interreg MED community, check the:
Some Low carbon results in the Interreg Programme achieved as of 2019:
| | | | | |
| --- | --- | --- | --- | --- |
| People trained in energy renovation of buildings | Regions engaged in energy efficiency plans | Planning tools to monitor and manage energy in public buildings | Expected population of islands covered by Renewable energy plans | Population involved in awareness activities for low carbon transport |
| 2,697 | 149 | 12 | 8,025,000 | 7,115 |