The Cooperation area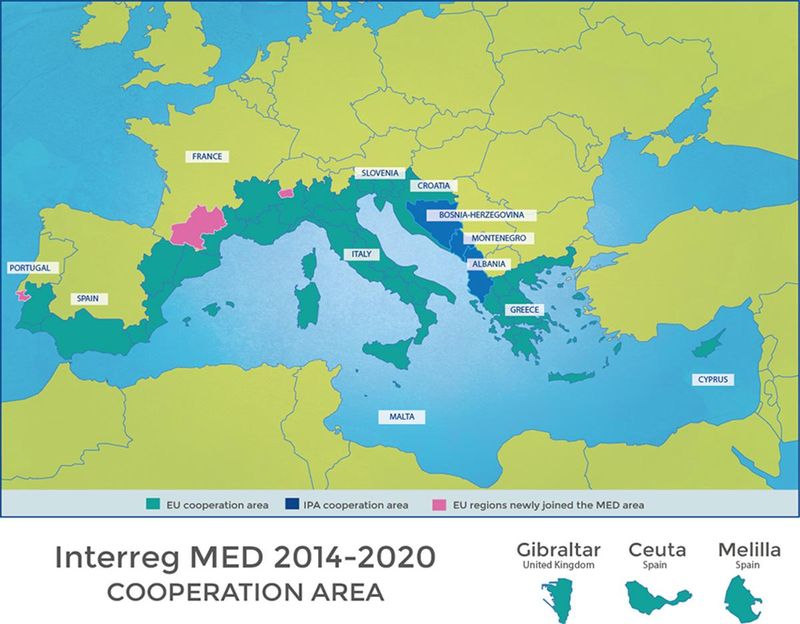 The Interreg MED cooperation area has slightly changed in comparison with the 2007-2013 Programming period. Three new regions have joined the programme, namely Lisbon (Portugal), Midi-Pyrénées (France), Valle d'Aoste (Italy). The "Mediterranean dimension" of these regions has been a key argument for their selection, as well as the contribution they could bring to the setting-up of future macro regional and sea basin strategies in the Mediterranean.
The Interreg MED Programme now consists of 57 regions divided among 10 EU Member States and 3 countries from the Instrument for Pre-Accession Assistance (IPA).
(EU Member States)
Croatia: the entire country
Cyprus: the entire country
France: 5 regions – Corse, Languedoc-Roussillon, Midi-Pyrénées, Provence Alpes Côte d'Azur, Rhône-Alpes
Greece: the entire country
Italy: 19 regions : Abruzzo, Apulia, Basilicata, Calabria, Campania, Emilia-Romagna, Friuli-Venezia Giulia, Lazio, Liguria, Lombardy, Marche, Molise, Piedmonte, Sardinia, Sicily, Tuscany, Umbria, Valle D'Aoste, Veneto
Malta: the entire country
Portugal: 3 régions: Algarve, Alentejo, Lisbonne
Slovenia: the entire country
Spain: 6 autonomous regions – Andalusia, Aragon, Catalonia, Balearic islands, Murcia, Valencia – and the two autonomous cities – Ceuta and Melilla
United-Kingdom: 1 region – Gibraltar
(IPA countries)
Albania: the entire country
Bosnia-Herzegovina: the entire country
Montenegro: the entire country