GET READY: THE FIRST CALL IS COMING!
The very first call for proposals of the Interreg Euro-MED Programme should open between the end of February / beginning of March. Here is all the information you need to get ready for it.
Background of the call
The main goal of the Interreg Euro-MED Programme will consist in contributing to the transition towards a climate-neutral and resilient society: fighting against global changes impact on Mediterranean resources, while ensuring a sustainable growth and the well-being of its citizens. By pursuing this goal, the Programme intends to improve the quality of human life through the protection of the environment.
In order to do so, the Programme selected 3 priorities to work on: smarter, greener and a better governed Euro-MED area. This first call for proposals will address the third priority, focusing on the quality of the governance of the cooperation among actors.
Types of projects financed by this first call
The governance projects will be divided into 2 types: Thematic Community Projects (TCP) and Institutional Dialogue Projects (IDP).
The Thematic Community Projects will aim at animating a community of projects to enable exchanges and synergies between projects and at favouring the technical transfer and mainstream of thematic projects' results into the practices and policies of the Euro-MED territories.
The Institutional Dialogue Projects will aim at supporting the work of transfer and mainstream of results into the practices and policies undertaken by the Thematic Community Projects on the Euro-MED territories by liaising activities. They will also be focused on improving the coordination with stakeholders within and beyond the Euro-MED area.
Provisional calendar
Horizontal, strategic and governance projects of the 14/20 period want to share their experiences to inspire the future project partners on governance. Therefore, in January and February 2022, seminars (open to all !) will be held online to encourage the capitalisation of tools and methodologies:
In order to support the future applicants in writing their project proposal, the JS will organise several seminars from February to April 2022: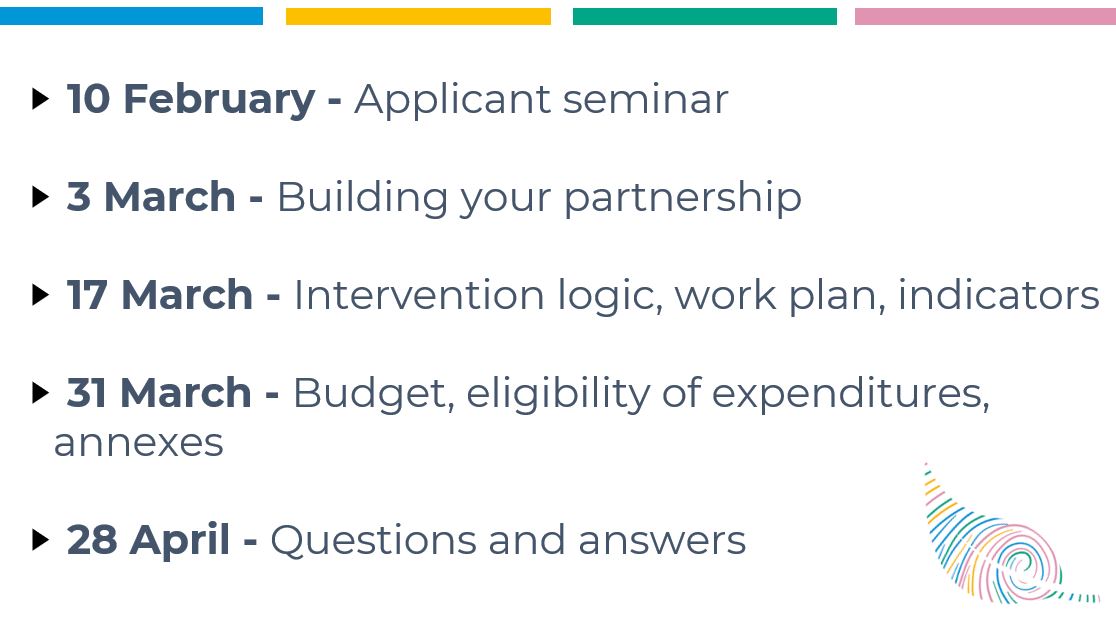 NB: Please be aware that the Programme has not yet been approved by the European Commission which means the content of the Programme documents and the terms of references of this call may change substantially following negotiations of the partner states with the EC.